In June 2017, NS 3368 had its existing cab upgraded at the NS Roanoke Locomotive
Shop, including installation of an electric parking brake, replacement cab doors, floors
and side windows, new sunshades, a rebuilt control stand, PTC/NS LEADER equipment,
and rear ditch lights were installed. The unit will eventually be repainted at the
NS Juniata Shops, but it was put back into service following the cab upgrade.
The photos here were taken by Luke Harwell at Radford, VA on June 17, 2017.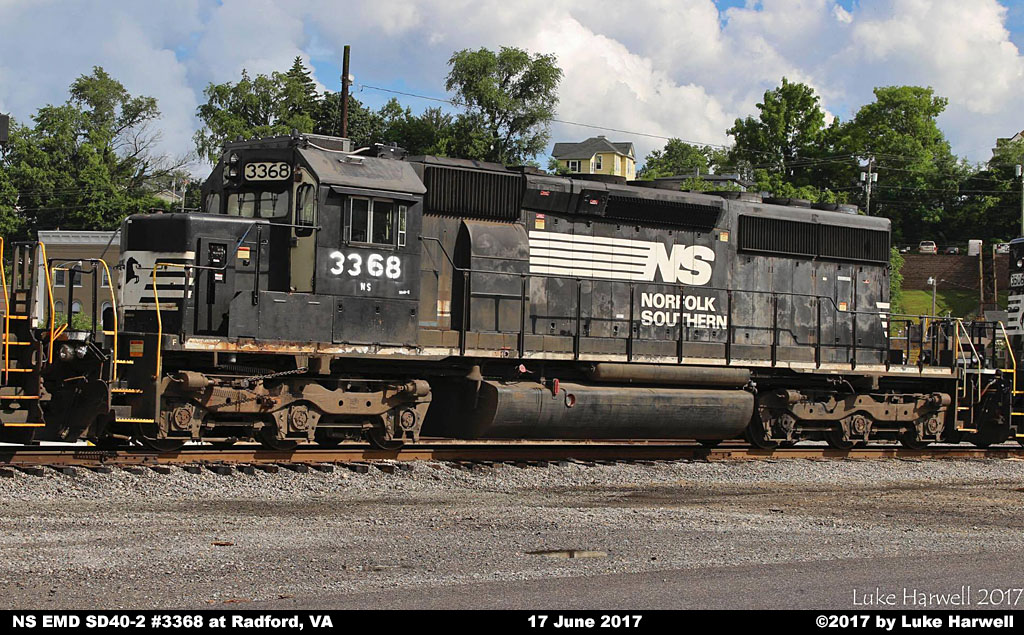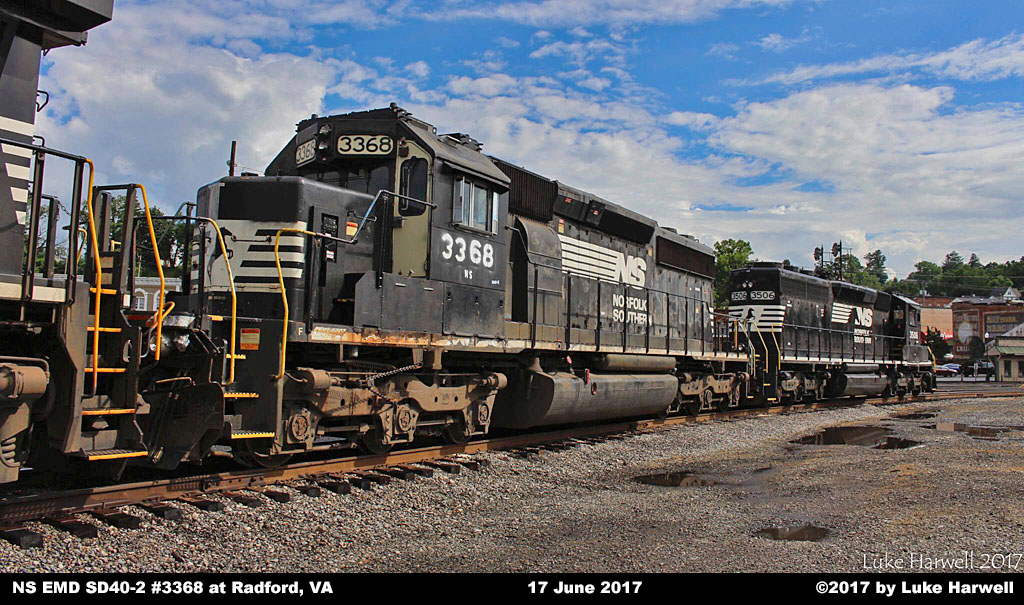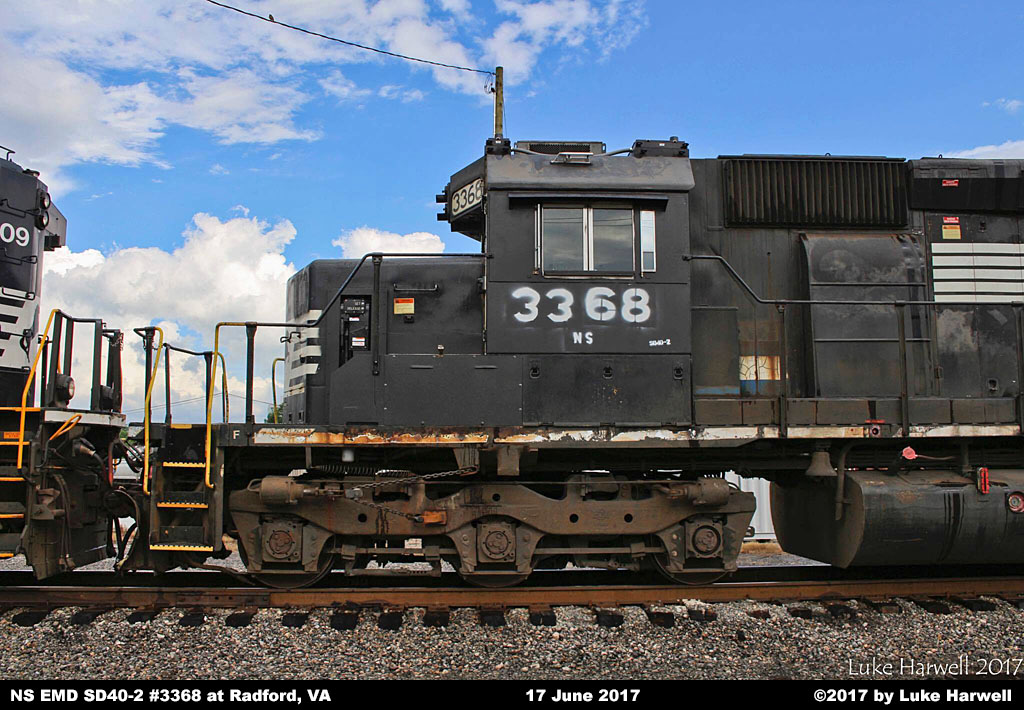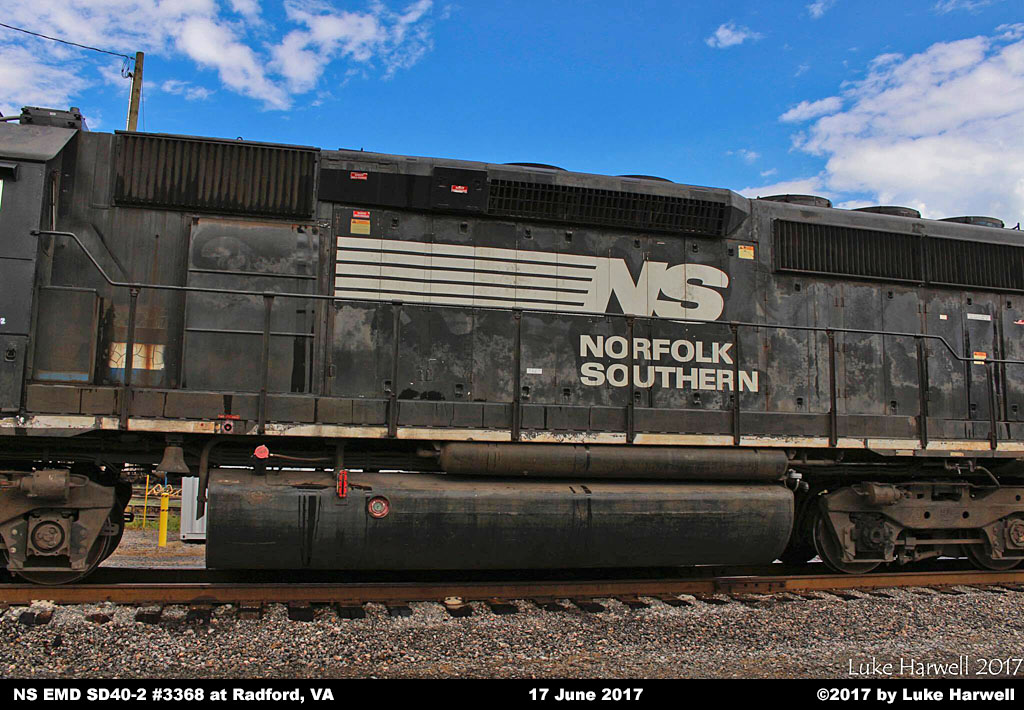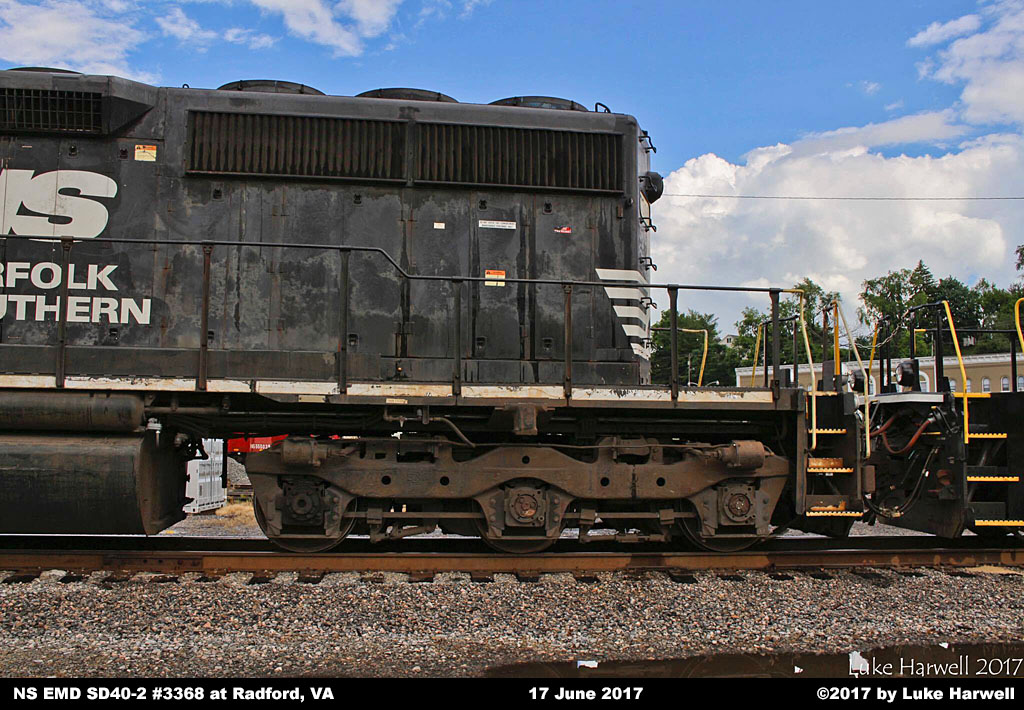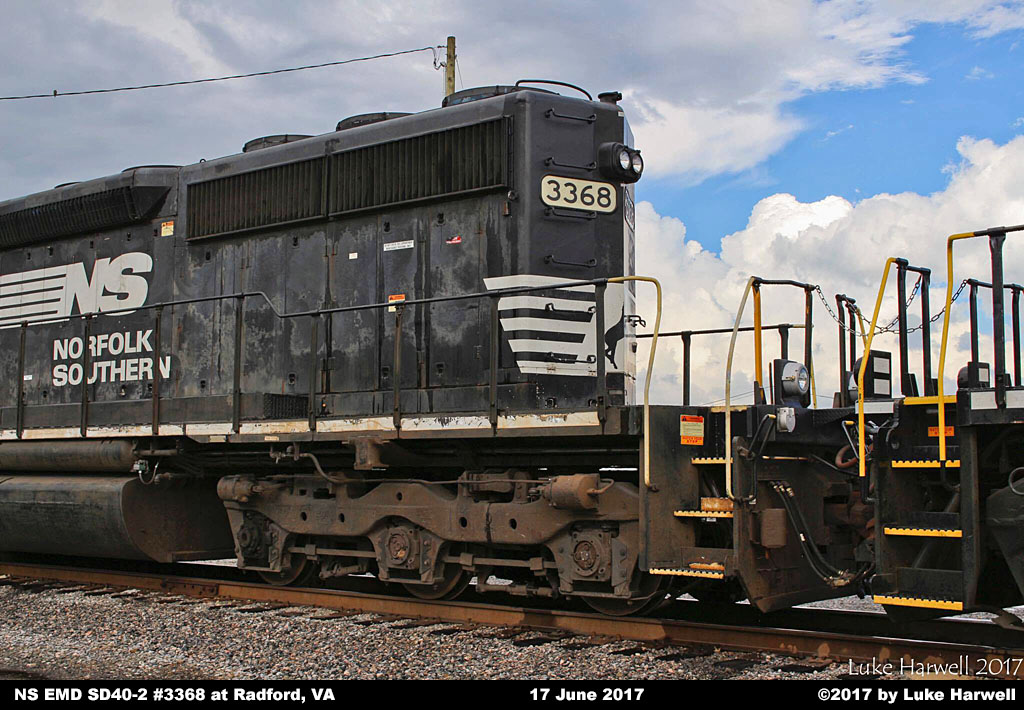 The 3368 was repainted in NS black in July 1999 and was one of the first NS repaints
by the Juniata Shops. The early repaints done at Juniata tended to have the
"Thoroughbred" logos placed lower than normal on each end of the locomotive, as
can be seen with the 3368 in the photos here.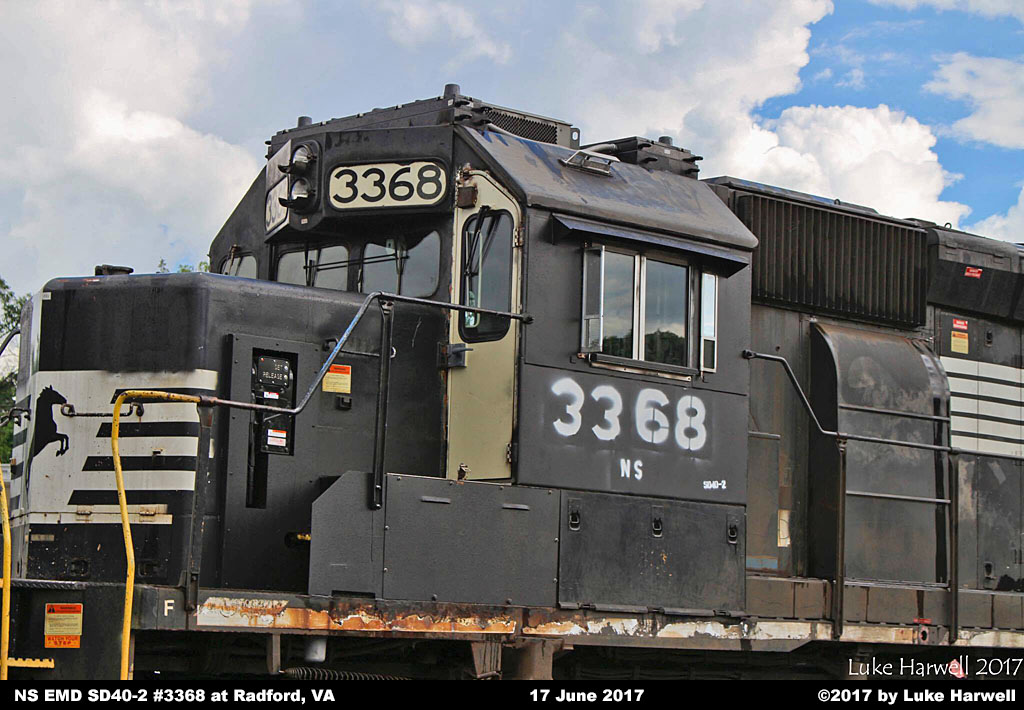 When acquired from Conrail, the 3368 was equipped with wheel flange lubricators. A
flange lubricator cabinet was mounted on the left side walkway between the electrical
cabinet air filter box at the rear of the cab and the traction motor blower bulge on the
carbody. NS removed the flange lubricators and the cabinets from the units after the
Conrail takeover and on the 3368 that left some evidence of its previous Conrail paint,
as can be seen in the photo below.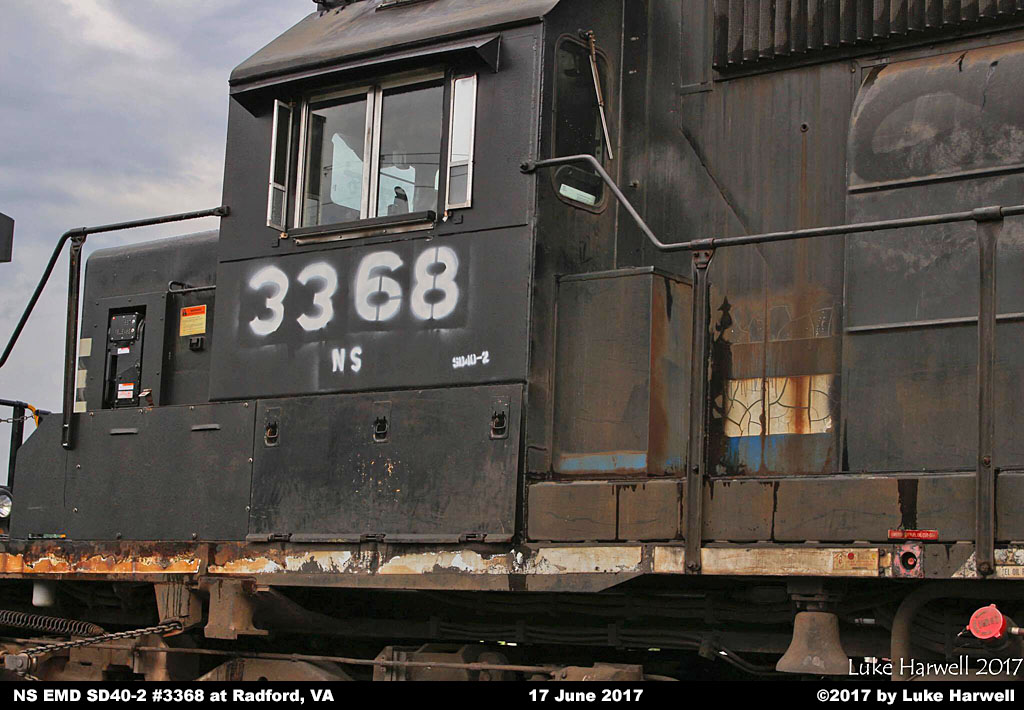 All of the SD40-2's ordered new by Conrail (and the units of the first three Conrail
SD50 orders) came equipped with EMD Flexicoil-C trucks, rather than the Flexicoil HT-C
trucks that had become the standard of the EMD Dash 2 and later 50/60 series lines.
The reason for this was that Conrail was concerned about the safety and reliability of the
HT-C trucks, based upon several derailments of Amtrak SDP40F locomotives equipped
with the HT-C trucks, as well as reports of their ride quality.  Conrail decided to go with
the already proven Flexicoil-C trucks. The 3368 rides on Flexicoil-C trucks,
as seen in the photos below.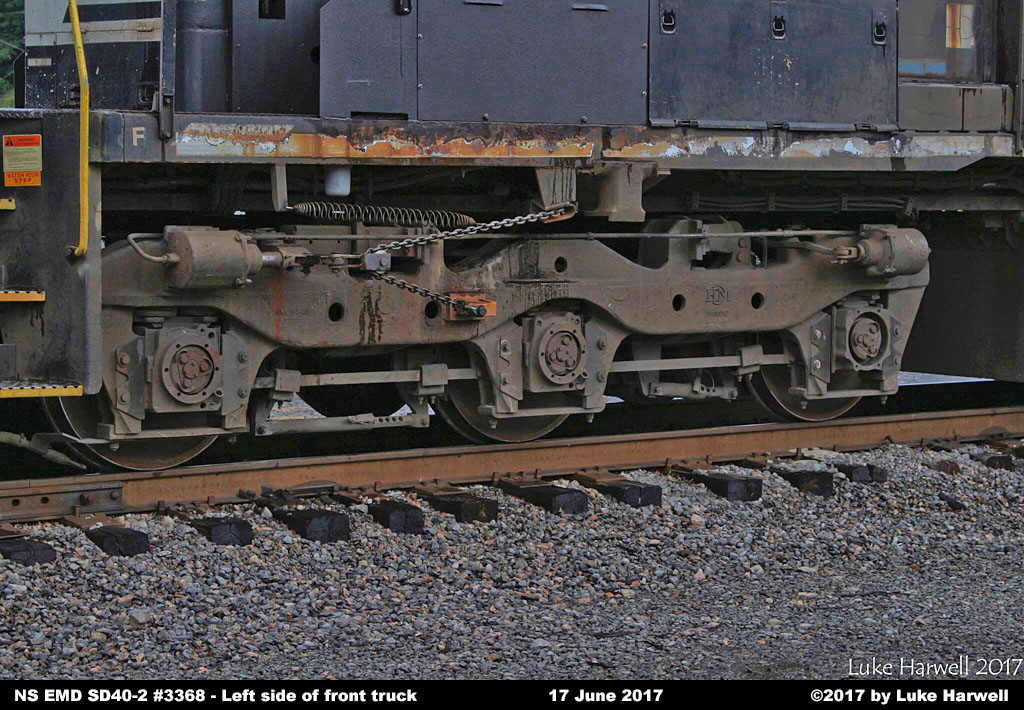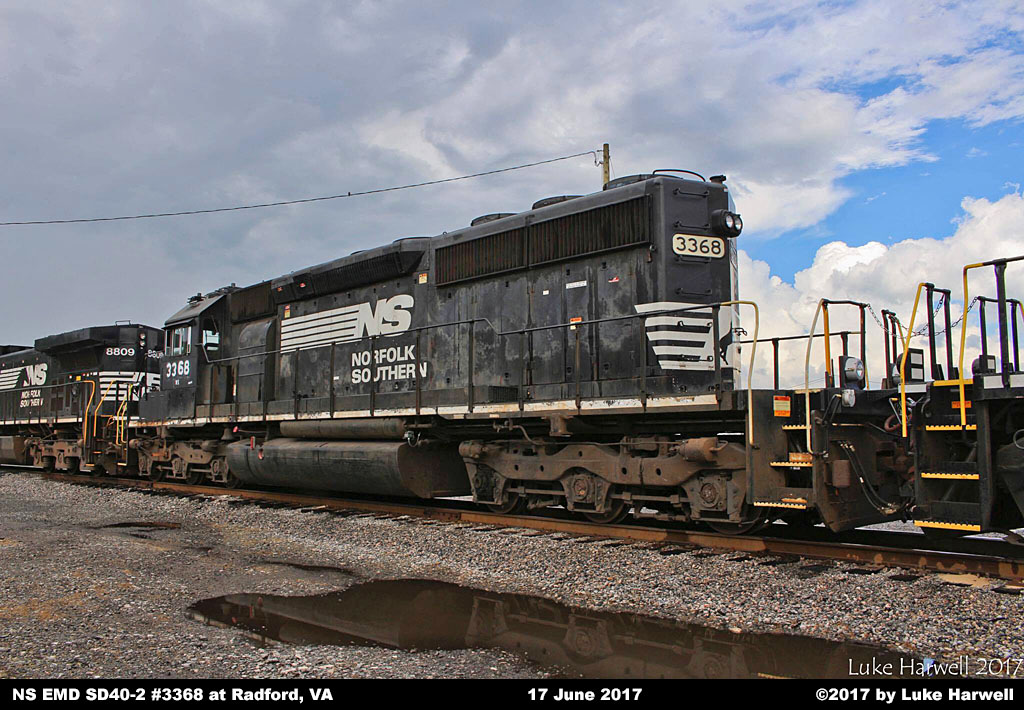 ---
Please Note: This is the personal home page of Chris R. Toth. It is not affiliated with, sponsored
nor supported by Norfolk Southern Corporation.

Information and photos from this website should not be used without permission and/or proper credit.