---
NORFOLK SOUTHERN
DIESEL LOCOMOTIVE ROSTER

EMD F-9A Nos. 4270, 4271

2 Units Active
---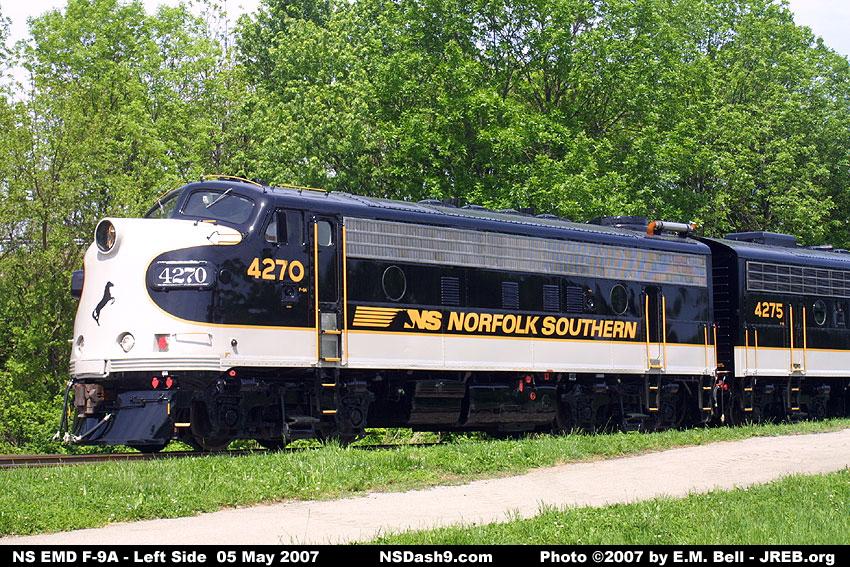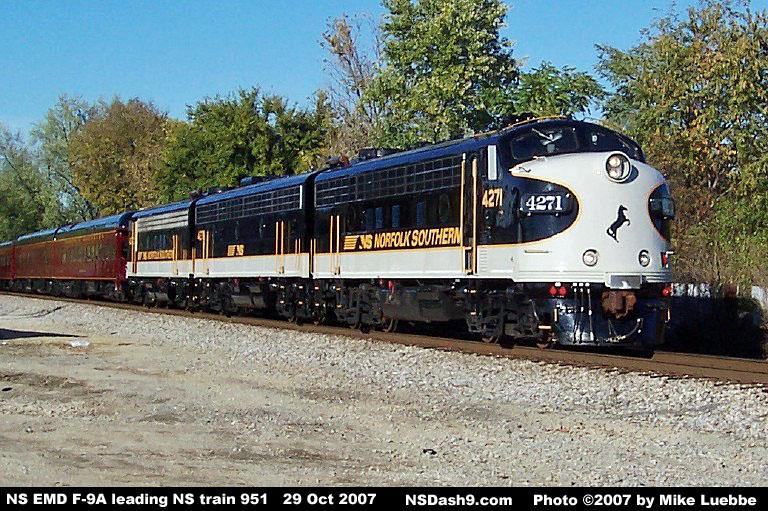 This roster compiled and maintained by Chris R. Toth.
Roster last updated on April 8, 2013.
NS
No.
4th
No.
3rd
No.
2nd
No.
1st
No.
Rebuilt From
Rebuilt By
Rebuild Date
Order No.
Builder No.
Build Date
Previous Nos.
Notes
4270
RPCX 1010
RPCX 101
MARC 81
MDOT 7181
M-K F7A 4580
Morrison-
Knudsen
01-1981
3122-A
15909
01-1952
B&O 4580/B&O 937
4271
RPCX 1020
RPCX 102
MARC 85
MDOT 7185
M-K F7A 4557
Morrison-
Knudsen
08-1980
3146-A
16642
08-1952
B&O 4557:2/B&O 4590:1/B&O 947

General Info
NS Model Designation = F-9A
Horsepower = 1,800
Fuel Tank Capacity = 1,000 gallons
Dynamic Braking = No
Control = Single
Cab Signals = Yes
LSL (Locomotive Speed Limiter) = Yes

Units were purchased by NS from Kansas City Southern in October 2006 for business train use.
Equipped with cab air conditioning.
Units have standard 62:15 gearing with a 70mph maximum speed.
Units are equipped with ECP (Electronically Controlled Pneumatic) train braking.
Units are equipped with NS LEADER/PTC (Positive Train Control) system.

Units are stored in Altoona, PA when not being used for OCS (Office Car Special) trains.
---


Back to top of page

Please Note: This is the personal website of Chris R. Toth. It is not affiliated with, sponsored nor supported by Norfolk Southern Corporation.

Information and photos from this website should not be used without permission and/or proper credit.