---
NORFOLK SOUTHERN
DIESEL LOCOMOTIVE ROSTER

EMD/NS GPTEB (Tractive Effort Booster) Nos. 600-601

2 Units Active (1 of those is currently stored)
---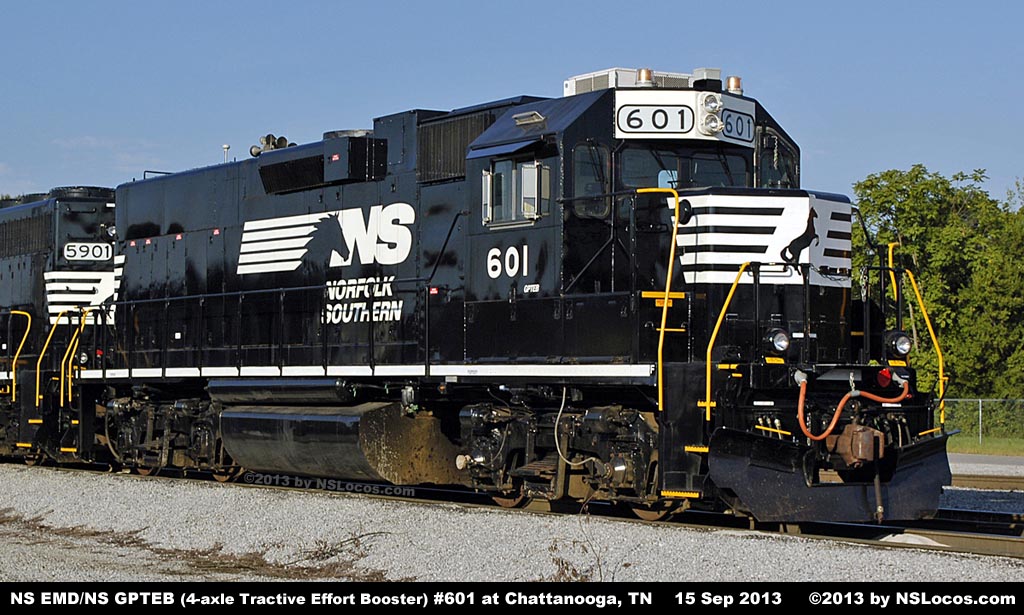 This roster compiled and maintained by Chris R. Toth.
Roster last updated on May 16, 2022.

Road No.
Rebuilt From
Rebuild Date
Rebuilt By
Original Build Date
Order
No.
Builder No.
Notes
600
NS EMD GP38 2888/CR 7693/PC 7693
01-2012
NS
06-1969
7191
35322
601
NS EMD GP38 2885/CR 7679/PC 7679
05-2012
NS
06-1969
7191
35308
Unit currently stored, but still on the active roster.

General Info
NS Model Designation = GPTEB
Horsepower = 0
Fuel Tank Capacity = 0
Dynamic Braking = Yes
Cab Signals = Yes
LSL= Yes
Air Conditioning = Yes

These units are designed for operation with an NS EMD GP22ECO master unit.

Equipped with a cab and can be used to lead consist.
Units are equipped with CCB 26 electronic air brake system.
Equipped with an electric parking brake.

Equipped with R/C equipment for use in radio control operations.


---


Back to top of page

Please Note: This is the personal website of Chris R. Toth. It is not affiliated with, sponsored nor supported by Norfolk Southern Corporation.

Information and photos from this website should not be used without permission and/or proper credit.