---
NORFOLK SOUTHERN
DIESEL LOCOMOTIVE ROSTER

EMD/NS RCP4 Remote Control Platform Nos. 97-98

2 Units Currently Active
---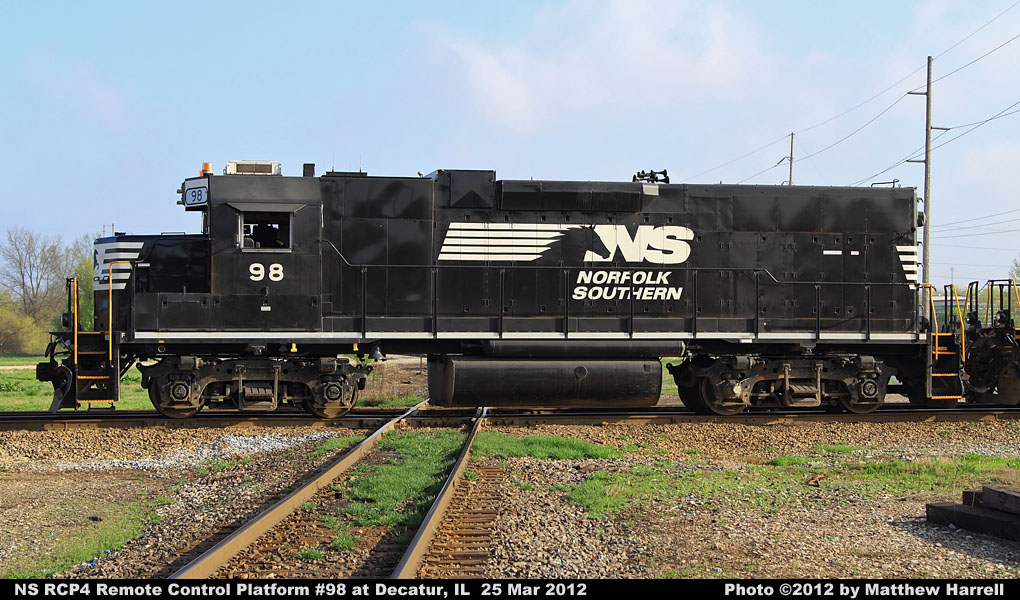 This roster compiled and maintained by Chris R. Toth.
Roster last updated on January 4, 2017

Road No.
Second NS No.
First
NS No.
Rebuilt From
Rebuild Date
Rebuilt By
Original Build Date
Order
No.
Builder No.
Notes
97
99
1001
NS EMD GP38 2909/CR/PC 7730
09-2009
NS
07-1969
7191
35359
See numbering notes below.
98
--
1000
NS EMD GP38 2908/CR/PC 7728
07-2009
NS
07-1969
7191
35357
See numbering notes below.

General Info
NS Model Designation = RCP4
Horsepower = 0
Fuel Tank Capacity = 0
Dynamic Braking = No
Cab Signals = No
LSL (Locomotive Speed Limiter) = No

Both units are equipped with air conditioning.
Units were rebuilt from former NS EMD GP38 locomotives.
These units are equipped with remote control equipment and are designed to MU
with any locomotive so that it can be used in remote control service. Unlike slugs, these
remote control platforms do not have traction motors or dynamic braking.
When originally rebuilt in 2009, these units were numbered as NS 1000-1001. To clear the 1000 series for new
SD70ACe locomotives on order, RCP4 1000 was renumbered as NS 98 in October 2010, while RCP4 1001 was
renumbered as NS 99 in September 2010. NS RCP4 99 was again renumbered, as NS 97 in December 2016.
---


Back to top of page

Please Note: This is the personal website of Chris R. Toth. It is not affiliated with, sponsored nor supported by Norfolk Southern Corporation.

Information and photos from this website should not be used without permission and/or proper credit.